Media Releases
JETQUAY LAUNCHES MEET & GREET SERVICES FOR ST. REGIS
03 February 2008 (JetQuay) – SINGAPORE – JetQuay has partnered with St. Regis Singapore Hotel to meet and greet guests who pre-book airport to hotel transfers through the hotel at the air-bridge and transport them through JetQuay's CIP Terminal at Singapore's Changi Airport. Guests who book the arrival service are entitled to JetQuay's airport services. JetQuay handles the air-bridge to CIP Terminal transfers, baggage and immigration requirements on behalf of the hotel for the passenger.
Once the guest's baggage is retrieved and brought to the CIP Terminal, staff prepare a waiting Bentley, Mercedes S class or BMW 7 series limousine, depending on the level of service booked, which transfers guests to the city based St Regis Singapore Hotel.
St. Regis is the first hotel property in Singapore to extend this branded service systematically to all their guests who have arranged their transportation through the hotel. The hotel enjoys a competitive advantage by building in the unique and distinctive service features extended by JetQuay into its service offer to arriving guests.
"The St Regis competitively differentiates itself by extending its hospitality all the way to the air-bridge at Singapore's Changi Airport, declared Vincent Metais, Commercial Director Asia Pacific, Worldwide Flight Services. "Guest transportation upon arrival is simplified as the limousine requested by the guest is parked at the CIP terminal door, eliminating any wait or congestion."
JetQuay's facilities at the CIP Terminal include an art gallery, shopping, excellent business facilities, a mini gym, spa, nap rooms and an wide array of arrival services that leave travellers well refreshed. Passengers enjoy the luxurious surroundings whilst JetQuay handles their boarding passes, baggage collection and immigration matters on behalf of the guest.
Passengers for any commercial class of airline or private jet making passage through Singapore's Changi Airport are entitled to use JetQuay on a pay per use basis at highly affordable rates.
Those who wish to make enquiries about JetQuay may contact the sales team. Contact details can be found at www.jetquay.com.sg.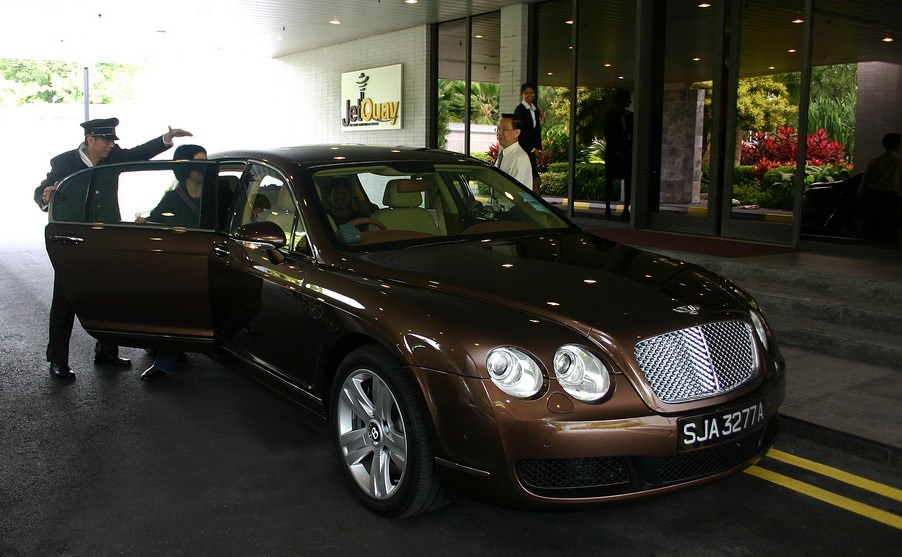 The first St. Regis Singapore Hotel's guests to enjoy JetQuay's service with the St.Regis Bentley transportation.
- ENDS -