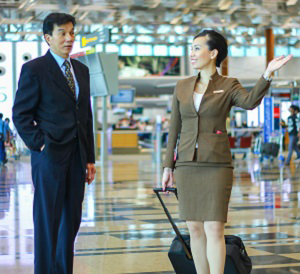 gateway
The network of terminals at Changi Airport can be bewildering for travellers. Let our dedicated JetQuay representative escort and assist you through the travel channels.
Service elements:
Our Guest Relations Officer will meet you at the aero-bridge upon arrival, or kerbside upon departure
For arrival, you will be met at the arrival gate, escorted through immigration, accompanied to the baggage claim area and led through customs to the Arrivals Hall. Our Guest Relations Officer will then escort you to your preferred choice of transportation.
For departing passengers, our Guest Relations Officer will meet you at the kerbside at the terminal of your departure, assist with your check-in, escort you through immigration clearance and guide you to your airline's lounge or to the boarding gate.
Transit passengers are met at the aerobridge upon arrival and escorted to the transfer desk, airline lounge or to your connecting flight.