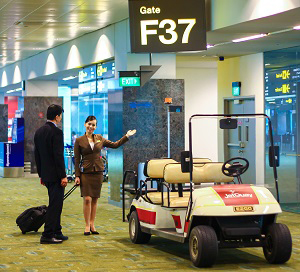 quayside
Enjoy world class facilities at the luxurious JetQuay CIP Terminal, equipped with dedicated check-in and immigration clearance, including an electric buggy that transports you through the airport terminals.
Arrival Service into Singapore:
Our Guest Relations Officer will meet you at the aerobridge upon arrival and take you to the CIP Terminal on an electric buggy.
You are escorted through a dedicated Immigration and Customs counter and into the lounge to freshen up and relax after your trip while we retrieve your baggage.
Our team will make arrangements for your transportation to the city as well.
Departure Service from Singapore
When departing Singapore, you will arrive at the lobby of JetQuay CIP Terminal where our Guest Relations Officer will greet you and direct you to the lounge.
Our Guest Relations Officer will handle your baggage and check-in formalities while you enjoy the use of the CIP Terminal's facilities. If you have booked a round trip, you will enjoy complimentary parking of up to 3 days.
Our Guest Relations Officer will then escort you to the departure gate on our electric buggy to board your flight.